What are the Rules on SMS Marketing?
The recent rise of SMS Marketing (text messaging) shows little sign of slowing down, and why should it?
It's quick, economical and very effective in that you get straight to the eyes of the recipient. Whether you're making sales, sending invites / reminders, or conveying thanks, much like love, texting is a many splendoured thing! However, whilst there's no doubting its qualities are numerous, SMS Marketing is a commonly abused instrument.
The Unwanted, Unsolicited Texts
Many-a-tool has been created for locating mobile numbers to exploit the inexpensive broadcasting capabilities it offers. Who among us has not received a text pushing an unwanted something, with the instruction "Reply STOP to unsubscribe"? They can become annoying, though if from a known company / person, simply replying STOP should stop any future messages. However, if you don't recognise the sender, then whatever you do, don't reply. This is because many unscrupulous texts are sent to random numbers in the hope some will reply. Doing so confirms to them that the number exists, thus opens you up to a barrage of texts!
London Firm Fined Following ICO Investigation
The Organisation tasked with bringing miscreants to justice is the Information Commissioner's Office (ICO). They continue to monitor complaints and recently confirmed that a London firm had been fined for breaking text marketing rules.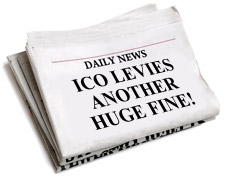 Vincent Bond Ltd sent a staggering 346,162 text messages between May 2015 and December 2015. Their inability to supply suitable evidence of appropriate opt-ins fell short of regulatory requirements. This resulted in the ICO issuing them with a fine for £40,000.
So, What are the Rules on SMS Marketing?
The act of marketing by text is covered within the Privacy and Electronic Communications Regulations 2003. This legislation states that organisations "must only send marketing text messages to individuals who have agreed to receive them, except where there is a clearly defined customer relationship."
For companies who use text marketing within their strategy, it's well worth understanding your duties. The ICO's Direct Marketing Guide covers in detail what is expected of companies that market this way. Click HERE to read it.
What About Texts from Overseas Sources
The ICO can only investigate complaints about marketing text messages from identifiable UK senders. However, due to an increase in the number of texts coming in from abroad, it has taken steps to combat this. The ICO recently entered into an agreement with a number of overseas bodies to "cooperate and exchange information". This should help in its attempts to clamp down on such nuisance texts coming in from overseas.
How Can You Avoid or Stop Unwanted Spam Texts?
Be very careful who you give your mobile number out to. Make sure they don't give it out to anyone else without your consent.
Make sure you tick or untick any relevant boxes on order forms, website opt-ins and literature. If possible, tell the company you do not want to receive marketing information by text.
Don't advertise your mobile number, for example don't put it on social media like Facebook or LinkedIn.
Always check privacy policies and marketing opt outs carefully.
Do not respond to a marketing text message from someone or a company you do not know, even if it says "Reply STOP to unsubscribe". Sometimes text messages are sent to random numbers and by responding, it confirms that your number is live.
In the event that you receive an unsolicited text message, contact the company concerned and ask they cease immediately.
In the event that the sender is unidentifiable to you, or if point 6 above proves unsuccessful, contact your network operator. They may be able to block these numbers.
In the event that points 6 and 7 prove unsuccessful, report it to the ICO via their online reporting tool – https://ico.org.uk/concerns/marketing/spam-texts-and-nuisance-calls/
Businesses can benefit from this blog by ensuring they remain compliant when adopting SMS marketing within their strategy.
Marketing Agencies can benefit from this blog by offering the best advice to those clients of theirs who utilise SMS texting.
Colleges can benefit from this blog by utilising SMS texting for such things as sending reminders for upcoming events / open evenings, albeit in a compliant manner.
We hope you enjoy our blog and welcome any comments and feedback, whether good or bad. For more blogs, why not visit our website www.databubble.info/data-bubble-blog